Online lessons available!
Too much social distancing giving you cabin fever?

Try releasing your creativity by learning the guitar or bass!

It all starts with the first lesson.

Already a player? Take it to the next level with professional instruction.

Brian is a patient and supportive teacher who emphasizes technical and musical fundamentals which allow you to excel at any style of music. Lessons are available for classical, acoustic steel-string, electric, and bass guitar.

 
RATES

--$199.00 for four weekly one hour lessons

--$99.00 for four weekly half hour lessons

--Gift certificates available.

 
LOCATION
--Online through Zoom or your favorite video chat service
--At Brian's home studio in West Seattle
--In your home for an additional fee (inquire for details).
 
Please read below for specifics on what you will learn.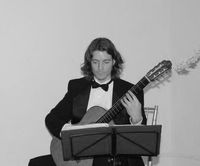 Classical Guitar
Learn classical playing position, how to read music, how to effectively use gravity and arm weight to your advantage, the shaping and use of fingernails for tone production, studies and exercises for technical development, and graduated repertoire.  Emphasis is placed on musicality, imitating the human voice, and individual expression and communication rather than strict academic interpretation.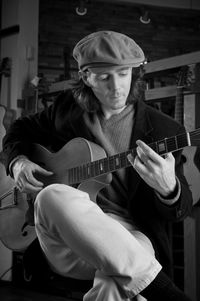 Acoustic Steel-String Guitar

Learn fingerstyle or flatpicking.  Fingerstyle players are given the option of learning how to use fingernails for increased projection and superior tone.  Flatpicking students learn picking technique that produces a round, full tone, assists in the playing of well articulated phrases, and is ergonomically effective.  Both learn fundamentals of left hand technique that produce superior articulation, accuracy, and intonation.  Some students want to learn how to improvise, some just want to learn to strum their favorite songs.  The focus varies depending upon the musical interests of the student.  Steel-string students are also given the option of learning to read music.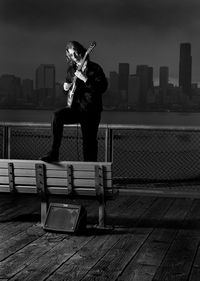 Electric Guitar

The student learns healthy left hand technique that is ergonomically superior and creates better tone, accuracy, and articulation as well as effective right hand picking technique that minimizes unnecessary motion and effectively damps strings for a cleaner sound.  The student studies the style of music that he/she is interested in.  As with acoustic steel-string players, the student is given the choice of learning to read music or not, but it is recommended for those who want to become well rounded musicians that will have the ability to traverse styles.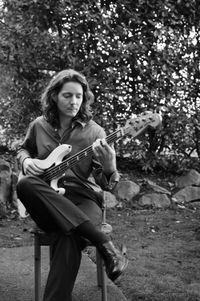 Bass Guitar

Emphasis is placed on sound left and right hand technical fundamentals, learning to read notes on the bass,  understanding the function of a bass line in a musical structure, and how to create your own bass lines.




For more information please contact Brian by phone, or text at (206) 262-0595, or by e-mail at info@briantlally.com.